New Premium Bike Racks for the Discerning Specifier/Buyer
The concept of Dynamic bicycle parking systems was first introduced in Australia by the current AS2890.3 (2015) document.
The intent of this product design category was to allow the ability to increase bike parking capacity in a given area. It was recognised that many bicycle storage rooms and End of Trip facilities are located in covered and underground car park areas where space is at a premium.
A compliant Dynamic bicycle parking device can reduce the width of a bicycle parking space by 20% - from 500mm to 400mm. Although the cost of a dynamic bike space is greater than the cost of a static bike space, the ability to increase the number of parking spaces by 20% in an expensive underground location is an appealing option for many property owners.
What is a compliant Dynamic bike rack?
It is a rack or device that can be moved in order to create the minimum Bicycle Parking Envelope required for parking and locking movements. In addition to the requirements for standard static bike racks, the following criteria must be met:
The horizontal or vertical position of adjacent bicycles are offset by a minimum of 300mm, or head to tail positions are used; and
The minimum width of 500mm can be created by moving the Dynamic BPD to allow locking and parking movements
No more than 8 bicycles shall be required to be moved by the user in order to create the minimum Bicycle Spacing Envelope width of 500mm
Examples from Cora Bike Rack include:
E3GP – horizontal parking or part of a double tier system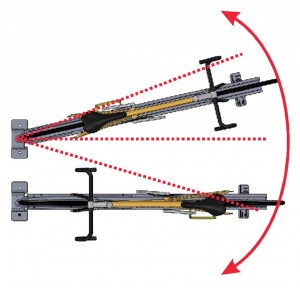 E3VR-DYN – vertical wall or post mounted parking