Meet the new E3VR-Q vertical post mounted racks designed to reduce project costs
COMING SOON!
Cora Bike Rack's latest product has been designed to keep project costs low by dramatically reducing the number of posts required for vertical parking installations by 50%.
Utilising the existing E3VR-P mounting post, 2 x E3VR-Q racks can be mounted on each side of the post for a total of up to 4 x bike spaces!
In addition to reducing the number of posts required to purchase, installation time is also reduced with less posts to install.
Importantly, the E3VR-Q racks are designed for AS2890.3 compliance. Watch out for other styles of dual sided vertical racks on the market that are either not compliant, or very difficult to use.
2 x E3VR-Q racks: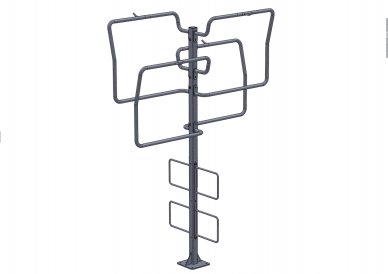 PRODUCT LAUNCH
The E3VR-Q will be available March 2021. Contact us if you would like any specification information prior to our data sheets and CAD file release.